The Mountain Lifestyle
Things to Do in Western North Carolina
Whether your thrill is outdoor adventuring or college athletics, western North Carolina has the perfect blend of things to do! Discover the best that this beautiful area has to offer.
Choose Your Destination
---
Western Carolina University
Located in the center of Cullowhee, Western Carolina University is a highlight of living in the area, where there's no shortage of things to do. 
Experience thrilling college sports and watch the Catamounts surpass their rivals in games that are sure to excite, or catch inexpensive film screenings of popular movies at UC Theater. If you're searching for a musical performance or Shakespearean play, grab a ticket and attend WCU's Mainstage Season. 
Photo courtesy of WCU
---
Art & Craft Galleries in the Area
There's a true focus on the local in North Carolina's mountains. You'll find the downtown areas in these communities just dotted with art galleries and local craft events that are popular among visitors and locals alike. 
Stop by Dillsboro to visit the Arts & Crafts Market once a month, where the local community proudly displays culinary art, cooking demonstrations, and, of course, arts and crafts vendors. Or during the first Saturday in November, you can discover local artists and pottery pieces at the WNC Pottery Festival. 
Check out other artisans at small-town shops like Country Traditions, Golden Carp, Oaks Gallery, and Tunnel Mountain Crafts, and more! 
---
Great Smoky Mountains National Park
Grab your hiking gear and take a day trip to some of North Carolina's most beautiful peaks in the park! Explore the mountain views, hike the natural trails, and discover the peace and quiet that only a mountain trek can provide. 
View the park's historic mountain properties, bask in the wonder of the waterfalls, and capture memories of the beautiful scenery with your camera. There's something unique at the Great Smoky Mountains park to offer everyone! 
---
Blue Ridge Parkway
Watch as the leaves transform into fiery and golden hues every fall, and see why this area is probably one of the most well-loved and well-photographed places on earth. 
Photo courtesy of RomanticAsheville.com
---
Pinnacle Park
Hike the public trails here in Sylva and discover the quaint, natural beauty of the North Carolina mountains.
The park's Pinnacle is a ridge with an elevation just about a mile high, standing half a mile above the valley. The park is just 20 minutes from the center of Cullowhee, which is why it's a popular destination for Cullowhee residents and students at Western Carolina University.
There are several designated hiking trails in the park — including West Fork Trail, the accessible Bridge Trail, and East Fork Trail to the waterfall. Be sure to experience the 360-degree view from the park's peak! 
---
Main Street
Cruise Main Street from Dillsboro to Sylva and discover true mountain charm and friendly folks.
Relax in the fresh mountain air and stroll along the sidewalks past old-fashioned storefronts, local art galleries, and spectacular mountain scenery. Get to know the friendly Dillsboro and Sylva residents and truly appreciate these communities for their distinct character. Every day is an adventure in these small towns. 
Photo courtesy of Mitchell Andrew Photography
---
The Biltmore Estate
Discover the elegance and sophistication of the Western North Carolina area at The Biltmore Estate, the historic home of the Vanderbilt family.
Located in Asheville, this magnificent home was first constructed in 1889 in the style of a French Renaissance chateau, and today it still features timeless treasures and wonders — a beautiful library, cathedral-like banquet hall, indoor swimming pool, and private bowling alley. 
Tour the house and its formal gardens, stay the night at its hotels or quaint cottage, enjoy exquisite wines from its historic winery, or experience history for yourself along the estate's equestrian trails. Its activities and its wonders are endless.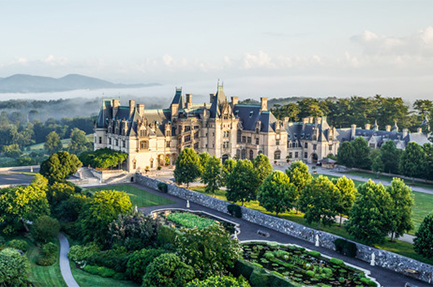 Photo courtesy of Biltmore
---
Want to Learn More about Western North Carolina?
Discover these charming communities for yourself and find a home that accentuates the Western North Carolina lifestyle. Start your property search at these local communities or call us at (828) 586-3442 or (828) 293-3708 today.